Furniture that Looks and Smells Great
Lipstick, wine and grease are no match for Jouny's Carpet upholstery cleaning team, and that's great news if you, your kids or even your pets have done a number on your furniture. Whether your upholstery has dulled over time or it's just plain dirty, our Detroit upholstery cleaners can help improve its look and leave it fresh, clean and ready to use again.
Sofa Cleaning Experts
Jouny Carpet Services has been helping people just like you for more than 28 years. We specialize in wet and dry furniture cleaning methods, so we can clean your furniture fabric properly depending on its particular cleaning requirements. In addition to cleaning everyday dirt and grime, we can remove the nastiest stains and odors.
If you reside in an apartment or assisted living facility, we can still handle your cleaning. With our portable upholstery cleaning process we can reach your furniture anywhere you live, from the basement to the top floor of your building. Call us today to schedule an appointment at your residence.
Prevent Future Stains
After getting your furniture cleaned, you can keep it clean with our furniture protectant. Factory applied protectant wears off with normal wear and tear in addition to cleanings. Spill proof and kid proof your furniture after you've had it cleaned with our DuPont or Teflon furniture protectors to keep the freshly cleaned look.
From getting your furniture clean to keeping it clean with protectant, Jouny's Carpet is Detroit's choice for furniture cleaning. With 25 years of experience and a 30-day clean guarantee, you can trust Jouny's Carpet.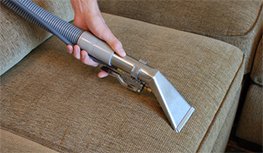 Experts in Upholstery Cleaning
If you're looking for the best upholstery and furniture cleaning service, you'll find it at Jouny Carpet Services. Using gentle-but-effective cleaning equipment paired with specially formulated upholstery cleaning solutions, Jouny Carpet can bring your furniture back to life and help protect it over the long term. Designed for just about any material imaginable, including synthetic fabrics, cottons, velvet, velour and leather, our furniture cleaning results are all about vibrancy and value.